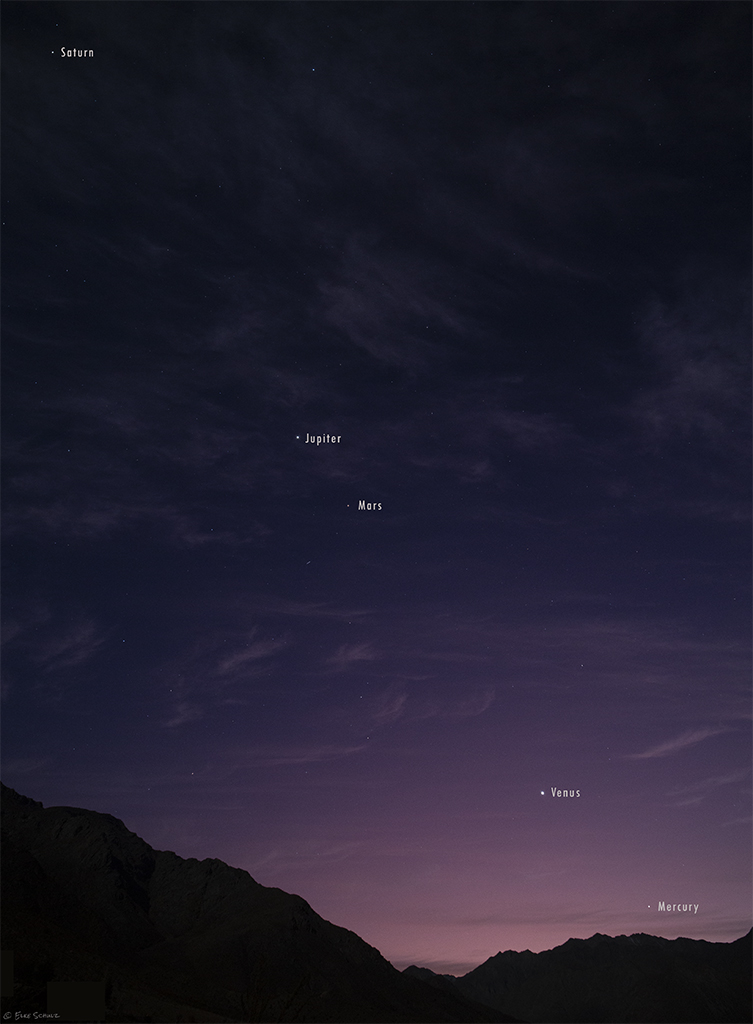 Planetary party
*Update: My image of the planetary lineup was chosen by NASA as their astronomy picture of the day (APOD) for June 17, 2022.*
Two local papers, El Ovallino and El Día also picked up on the publication of my photo as APOD on the NASA website.
These mornings are the perfect time to watch the five planets, that are visible to the naked eye, form a beautiful line shortly before sunrise. Interestingly enough, they are visible in the exact sequence that mirrors their order outward from the sun. The lineup begins with Mercury close to the horizon, followed by brilliant Venus, on to reddish (but fainter) Mars, a little further to bright Jupiter and ends with Saturn high in the sky. The last time these planets aligned in that order was in December 2004, and it will not happen again until 2040.
Please keep in mind that the ecliptic in the Southern Hemisphere is rather steep this time of the year. That means, the lineup for observers in the Northern Hemisphere will be lower in the sky and more diagonal. A clear view towards the northeast (east to southeast for the Northern Hemisphere) is mandatory to catch Mercury hugging the morning horizon. Catch this party while it lasts: Mercury will move closer to the horizon each day and will disappear in the morning twilight in early July.